"We Are Blessed"
Reflections on Annie Gill's Life
By
Jim Gill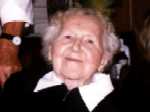 Most of you know that over the last few years I've slept in the same room with Mom. I guess it was fitting that I spent her final years with her since I spent the first 7 years of my life in a crib or a cot in her bedroom. There were so many of us, I had to wait until Carol got married before a bedroom became available. I moved back in with her when Mom told us one morning that she had chest pains the night before. Mom said she heard Stephen going to work but she didn't want to disturb him.
The most wonderful noise I heard at night was the sound of Mom's soft snoring. It meant that she was sleeping peacefully whereas quiet meant that Mom was trying to lie as still as possible so as not to disturb me. If the quiet lasted too long, I would call out, "Mom, do you need anything?" Mom would sometimes ask for some Tylenol but more often than not she would say, "I'm fine Jim," followed by "God bless you! Love you Madly!" The next morning Mom would confess to Rita, "I was cold last night." "Did you tell Jimmy?" Rita would ask. Mom would change the subject to the weather or the beautiful outfit that Rita was wearing (which were usually pajamas). Mom would rather be cold than disturb my comfort. There was one special night that Mom did wake me up. I was sleeping soundly when I heard, "Hail Mary full of grace the Lord is with thee, blessed art thou among women and blessed is the fruit of thy womb Jesus. Holy Mary mother of God pray for us sinners now and at the hour of our deaths Amen." Well my first thought was, "She about to draw her last breath and she chose to spend the time praying rather than calling me for help!" I called out, "Mom, are you all right?" She stopped praying but didn't speak. I called again, "Mom, what's wrong?" She finally said, "I'm just praying." The next morning Mom admitted to Rita that she was asleep when I called. So some of us talk in our sleep. Some of us (not me) walk in our sleep. Who else but Annie Gill would sleep pray?
Some of us may lament, "I wish I spent more time with her. I hope I didn't disappoint her, or I wish I could have been more like her." Let me assure you, there is nothing anybody could have ever done that would have disappointed Mom. If you made a mistake, she just prayed a little harder. Whatever your feelings about heaven or the concept of an afterlife, can anyone here truthfully say that they don't believe Mom still watches over us? Whether you see her in a bird that visits your backyard the same time everyday or a moth that flies through your window, know in your heart that she is with you. If you believe this then it follows that you have to believe that Mom is still and will always be a major part of your life. Talk to her first thing in the morning. Ask Mom to help you to be more like her today. Talk to her before you go to sleep. Ask her, "Did I do all right today?" Mom will hear you.
The last time that I talked to Mom she said, "I saw the priest and he told me 'Tomorrow is another day'". I thought to myself that that didn't sound like something that a priest would say. Mom would often "adjust" a story if it helped her make a point. Mom may have left a "message in a bottle" for us today. We have to go on with our lives but we can still try to give to Mom, to make her proud of us, to be more like her. If we make a mistake, she'll just pray harder. We need to get right back up and try again!
Almost from the day that we are old enough to speak, our parents teach us to say the "right thing" during difficult occasions. When a friend or loved one dies, we express to their family something we found special about that person. We assure the family how much the deceased will be missed. It's not that our words ring hollow. It's just that, after we've experienced enough death around us, the words become automatic.
I think that when people reach for comforting words regarding Mom's death, we find it impossible to be automatic! It is impossible to overstate how much she touched people. Those of us at home with Mom were constantly told by strangers, who dropped into and out of her life just as quickly, how special Mom was. When Cardinal Bernard Law or any of the countless priests she met asked Mom to pray for them, the sincerity in the priests' eyes was not to be taken lightly. The priests saw what those of us who knew her personally saw every time we looked at her. Those whose lives Mom touched ARE indeed blessed!
---
This page was created
January 20, 1999.